Audenshaw Local History Society
Visit to Derbyshire 31st July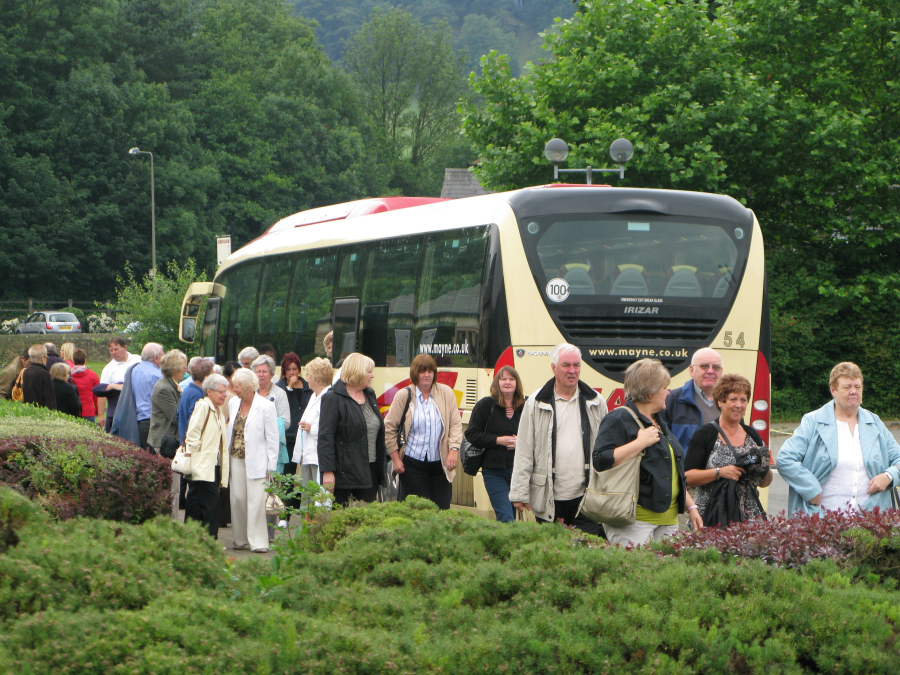 I really don't know how Stephen Fisher does it – dreadful weather all week then the annual trip comes along – very nice weather, thank you (even if it wasn't up to the standard of the past two years!). This year's trip was to Eyam, Rowsley and Bakewell, and we were accompanied this time by a retired Blue Badge guide, Roy Parks, who kept us well informed about the route and the places we were visiting, and entertained with his interesting and amusing anecdotes.
The journey out through the edge of the Dark Peak was one well known to the writer, but it was very pleasant to see the scenery for a change and look round, rather than be concentrating on the road ahead all the time.
The first stop was the "plague village" of Eyam where we had ample time to explore the village which not only has the history of the Great Plague and the effect it had on the village, but also, on a more general historical note, one can still see the evidence of the "cottage industries" which were carried out over the years. One instance of this was an old crane on the side of a building which, according to Nixon in Industrial Archaeology of Derbyshire, was a boot and shoe factory in 1857.
We then travelled on through Chatsworth Park to the Peak Outlet shopping centre at Rowsley where we had our lunch break. On the other side of the river from this modern development is the long established (400 years old) Caudwell's Mill, where grain is still ground for flour using water power, although no longer with a water wheel – the wheel was replaced by a water turbine system about 110 years ago. There are two turbines although it would appear that only one is normally run at the moment. This mill actually proved more attractive to myself and my wife than the modern shopping outlet! We spent an enjoyable hour exploring the ancient buildings and observing the wildlife along the river.
The final call of the journey was the market town of Bakewell where preparations were under way for the Bakewell Show, held annually in the first week of August. Again we were free to explore the town, browse in the shops, and take the opportunity to have afternoon tea in one of the many excellent tea rooms in the town.
The route back through Buxton and over the tops to Glossop and Mottram in good weather among spectacular scenery rounded off a very enjoyable day. Thanks to Stephen for organising the trip (and the weather!) sonal project by Caryl Williams who has indexed masses of entries from the early Liverpool Chronicle. Not just extracts from newspapers, but almost a one-stop Liverpool resource for family historians.