Elizabeth Gaskell Tour - Tuesday 9th May 2006
Fifty three assorted ladies and gentlemen from the Forum finally went on our planned visit on Tuesday. We were slightly delayed, due to our missing Hyde correspondent, who was eventually found on location at Ashton Bus Station.
The poor old house looks sadly neglected, but we received a very warm welcome from the ladies of the Gaskell Society.


During coffee we were allowed to look around and apparently, apart from the fireplaces, all the original features still remain . Mr Rose made straight for William Gaskell's study.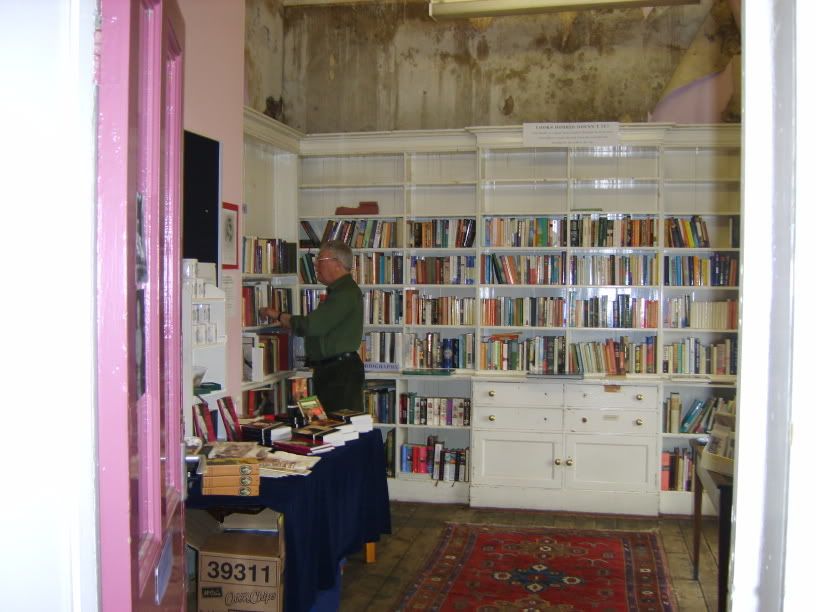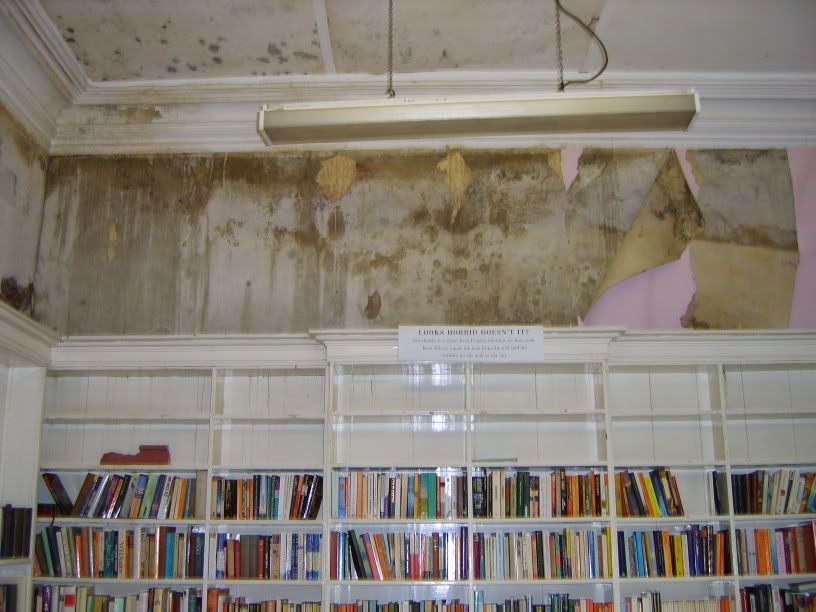 We were then treated to a slide show and lecture about the house and Gaskell family. As is the way with Blue Plaques, there is usually a mistake, the Gaskells actually moved in in 1850.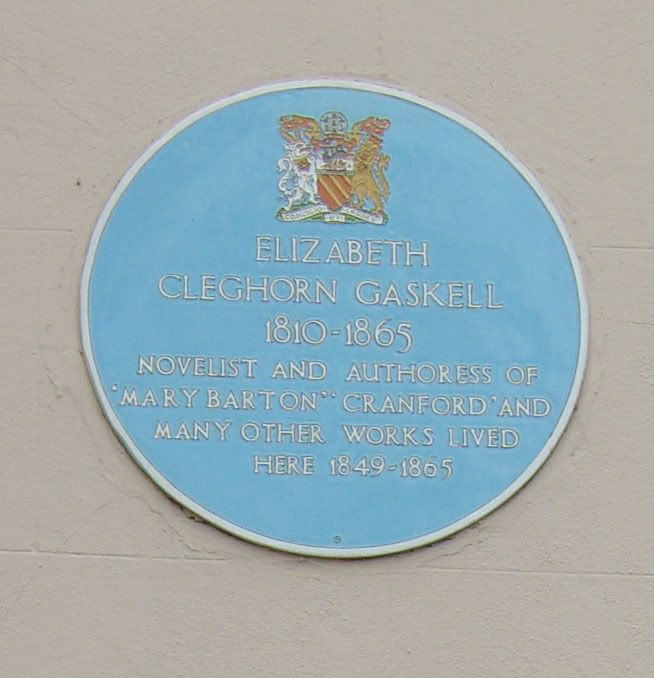 Elizabeth was born a Stevenson in London and her mother died when she was one. She later settled with her Aunt Lumb in Knutsford - marrying William she moved to live at Dover Street just slightly south of Manchester. We were shown a slide of a fancy dress ball in Manchester in 1828, at which a Miss Stevenson was present and the ladies from the Gaskell Society like to speculate that Elizabeth is in the picture.
You'll have to excuse me, but my notes were written in pitch darkness.
We were shown a picture of the room we were in circa 1890. The first from series of photographs taken by one of her daughters (Marianne?). The escritoire in the picture is now in Manchester Art Gallery. The grand piano where Charles Halle taught the girls to play was also in the photo.
Janet Allen (Chairwoman of the Society) went on to give a brief discussion of Elizabeth's works - pausing when she came to North & South, as she phrased it, on a rather dishy gentleman (from the TV adaptation) and was fully aware of his fanclub. She also mentioned that she would like him to come and do something at the house, and felt that it might be full on such an occasion.
The Gaskell family continued to live in the house until 1913, when it was bought by a family called Hope. It is only by virute of it being a grade II* listed building that it escaped the general demolition of the area in the 1950s. After the Hope family, the house was acquired by Manchester University who owned it for 30 years to use as their International Centre.
In 2004 it was acquired by Manchester Historic Building Trust. It will cost approximately £2,000,000 to restore. The lottery could donate one million and £400,000 has already been promised from other sources. The rest will have to be found by fundraising.
Click here to visit the Gaskell Society Website.
They are now on their third lottery bid, the first two have not succeeded.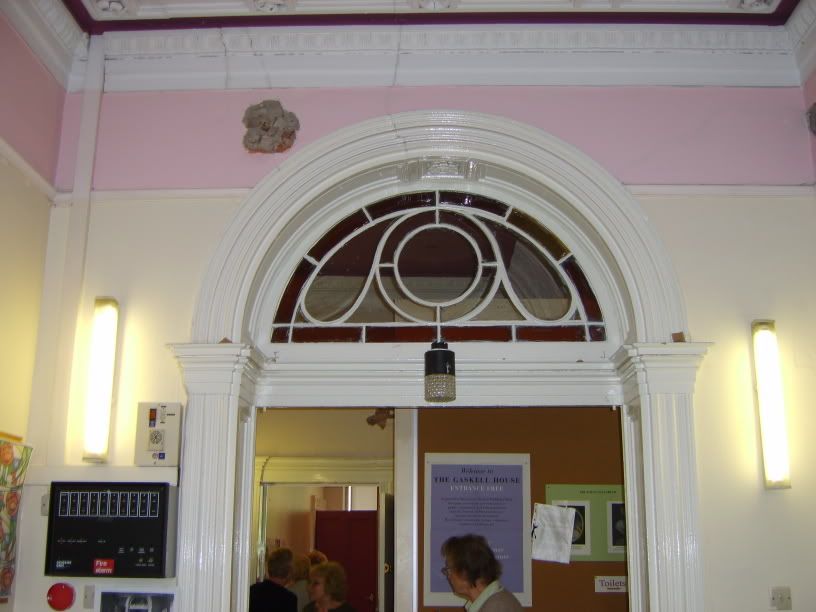 The front door with our coach outside.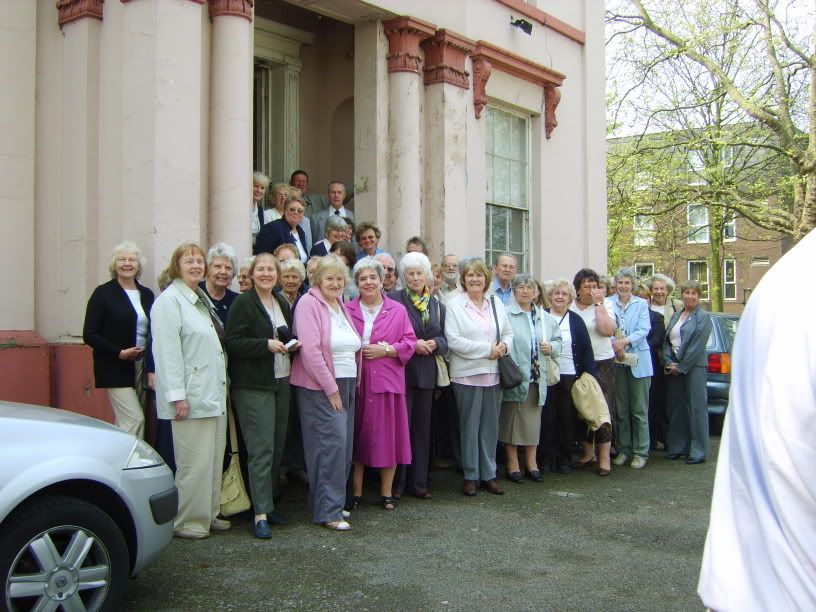 After a wonderful lunch and home made cakes provided by the ladies, we then continued on our way to Knutsford to be met by the Reverend Alex Bradley from the Unitarian Church and Joan Leach from the Gaskell Society for a tour round the town.
By this time the sun was beating down and we were all very hot. We were met by Joan Leach whose megaphone seemed to be running out of batteries, not helped by the fact that we were just under the flightpath for Manchester Airport.
We were shown the site of Knutsford Gaol (one of my ancestors, another Hyde gentleman, had been incarcerated there for a time). Then around all the various sites and houses of the characters from 'Cranford', then finally to the Unitarian Chapel.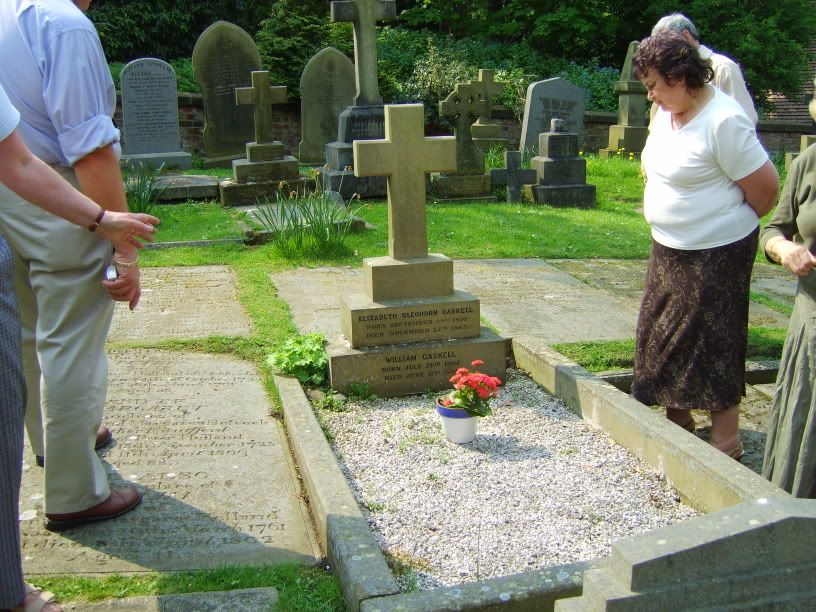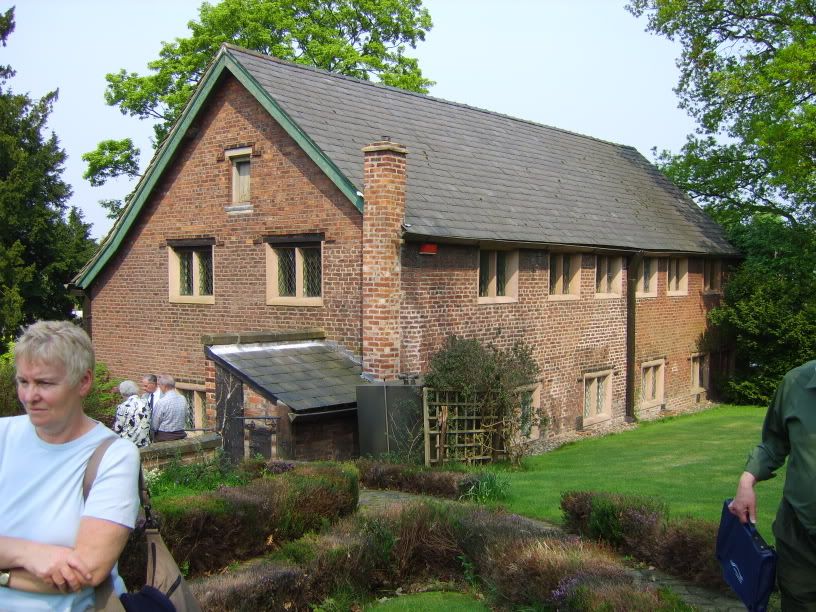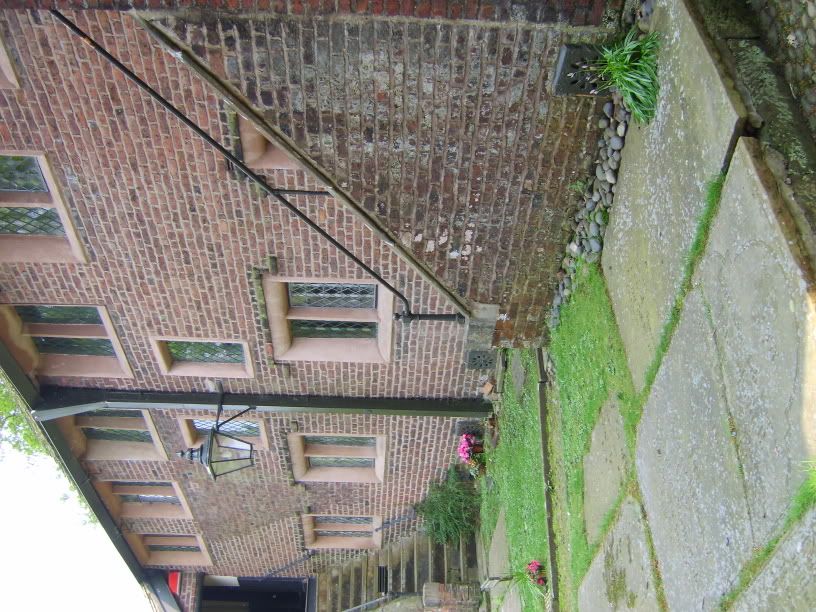 We were then taken to the Gaskell Memorial, which sadly I found rather ugly. Still hot and gasping for a drink!!!!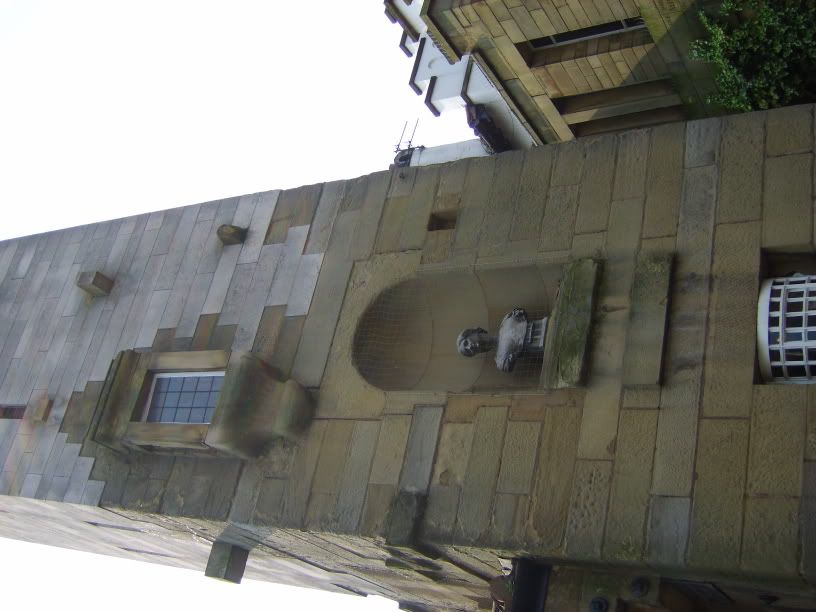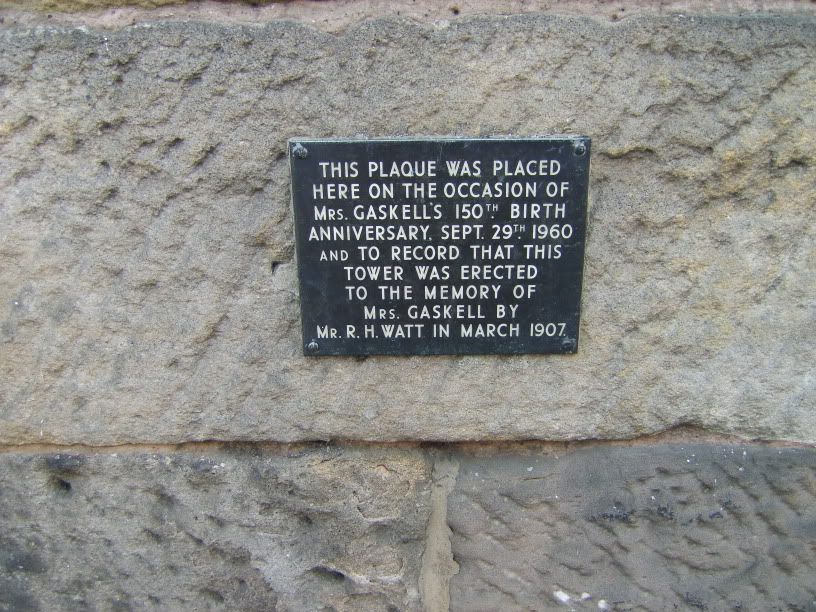 Then we were offered the option of going to the Heritage Centre or to Aunt Lumb's house to look at the garden. A small group decided to go to the garden supposedly 400 yards away. One mile later and still no drink!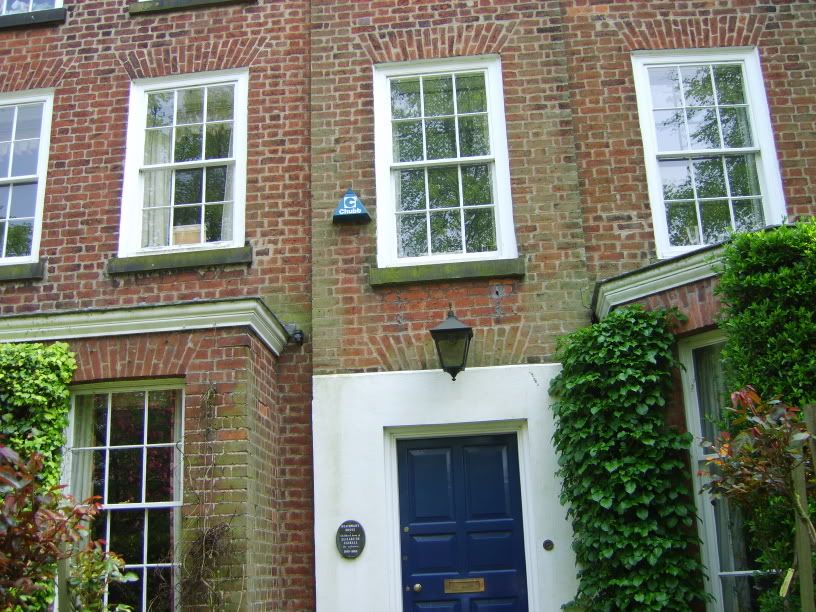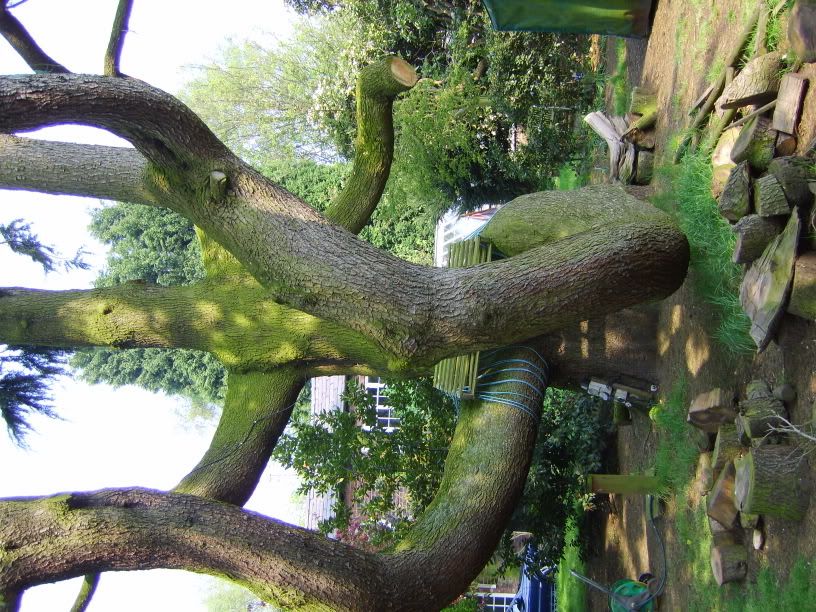 So this is where Elizabeth lived as a child - the house is lovely, but no flowers in the garden. It is obviously a family home with a rather friendly dog who decided to leave his mark on one of our party. Even so I bet this tree was in the garden when Elizabeth lived there. What a wonderful tree for children to play in.
We finally managed to buy a bottled drink on the long haul back to the coach, no time to sit down anywhere because it was leaving at four o'clock.
I hope everyone enjoys these pictures. Apart from the heat and thirst it was wonderful day. Many thanks to Harry Lever for his idea for the trip and to Christine for organising it. Also very many thanks to the Ladies of The Gaskell Society and to the Reverend Alex Bradley for making us feel so welcome.
Gay Oliver
May 2006