Mossley, Carrbrook and Luzley: World War One
I have undertaken considerable research into the men of Mossley, Carrbrook and Luzley who, during World War One, were awarded a medal listed in the London Gazette or gave their lives in service of their country.
Most people are aware that Ernest Sykes was awarded a Victoria Cross for his "Conspicuous bravery and devotion to duty" for his work at Roclincourt, near Arras, France, on 9th April 1917. On 9th April 1917 four Divisions of the Canadian Corps captured the 60 metre high Vimy Ridge, which the Germans had held since 1914. On this date the British 34th and 51st Divisions were in support, just north of Arras. When the Tyneside Irish came under terrific machine gun fire from the ruins of Maison de la Cote Ernest Sykes carried out a number of brave deeds that resulted in the award of the Victoria Cross.
Most people, however, will not be aware that during World War One the men of Mossley, Carrbrook and Luzley were awarded a total of 28 Military Medals, 3 with a bar, 3 Distinguished Conduct Medals, and 3 Meritorious Service Medals. In addition Miss Clarinda Rowbotham, a Sister at Mossley Military Hospital, was awarded the Royal Red Cross Medal 2nd Class. All of these Medals were listed in the London Gazette.
During World War One Carrbrook was partly in Micklehurst, Lancashire, and partly in Stalybridge, Cheshire. As part of Carrbrook was in Mossley at this time I have decided to include all those named on the Carrbrook War Memorial, which previously hung in St James' School, no matter in which county they had previously lived.
During my research I found that many of the men identified as being from Luzley had either been born in Mossley or had their names listed on the War Memorial in St George's Church, Mossley. Therefore, they too have also been included in my research.
The War Memorial in St George's Church lists the names of 170 men who fell during World War One. Additional names are to be found on the War Memorials and Rolls of Honour that are, or were, at other Mossley churches and clubs. I have also discovered that there are 15 men who were born in Mossley, and Mossley was still their home address at their date of death, who are not named on any Mossley War Memorial or Roll of Honour. Six of these men are buried in Commonwealth War Graves in Mossley Cemetery. To date I have found a total of 350 men with a Mossley, Carrbrook or Luzley connection who fell during World War One.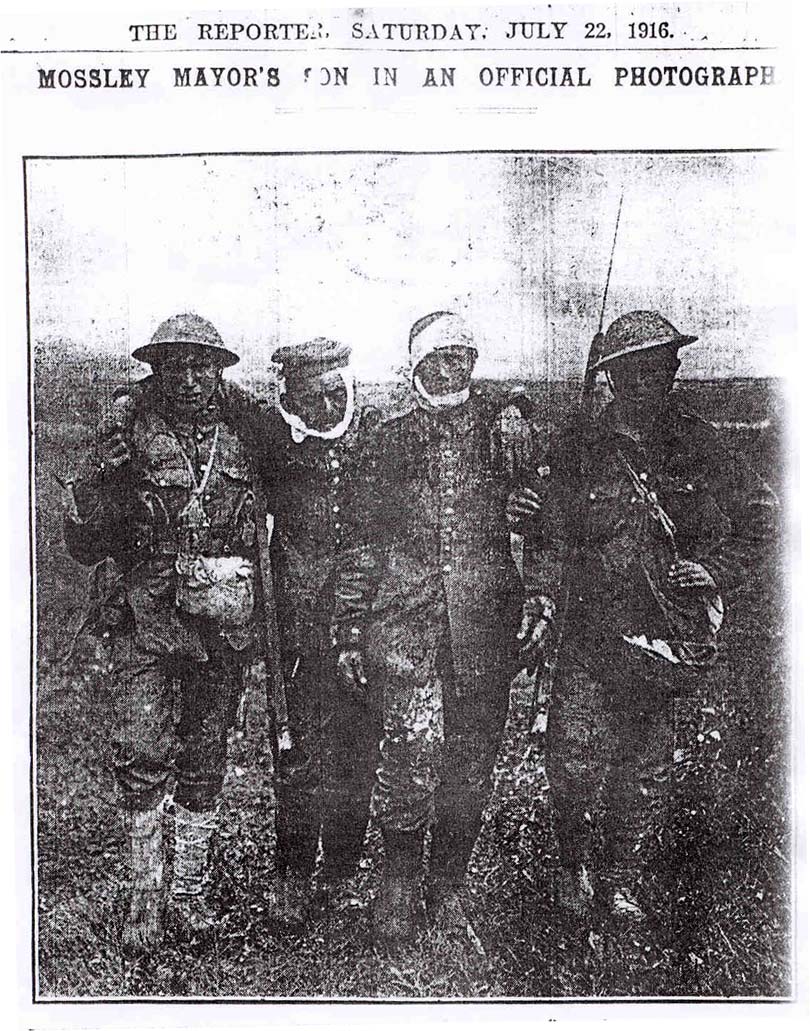 Mossley Mayor's son assists wounded soldiers in 1916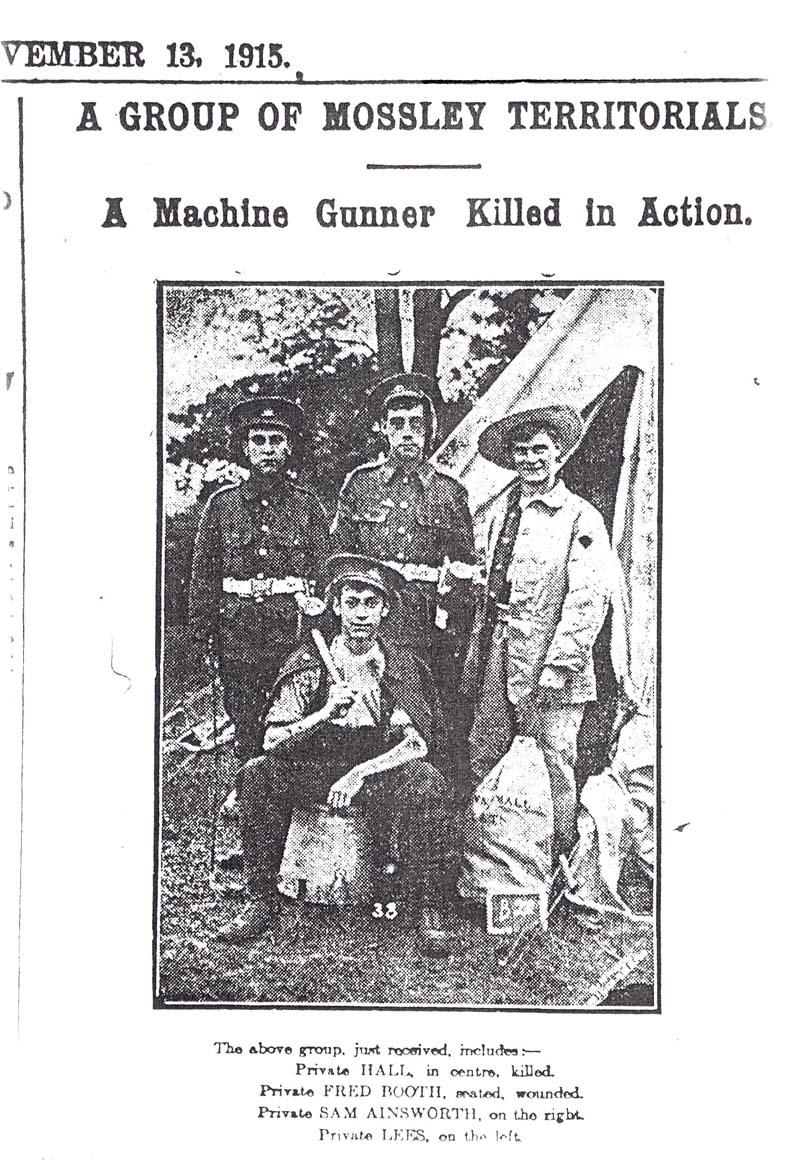 Mossley Territorials in Camp in 1915
Details of all those who were either awarded a medal listed in the London Gazette or gave their lives in service of their country are included in my book "Remember All The Boys", on sale (soon) in the Local Studies Library in Ashton-under-Lyne, and in Mossley Library.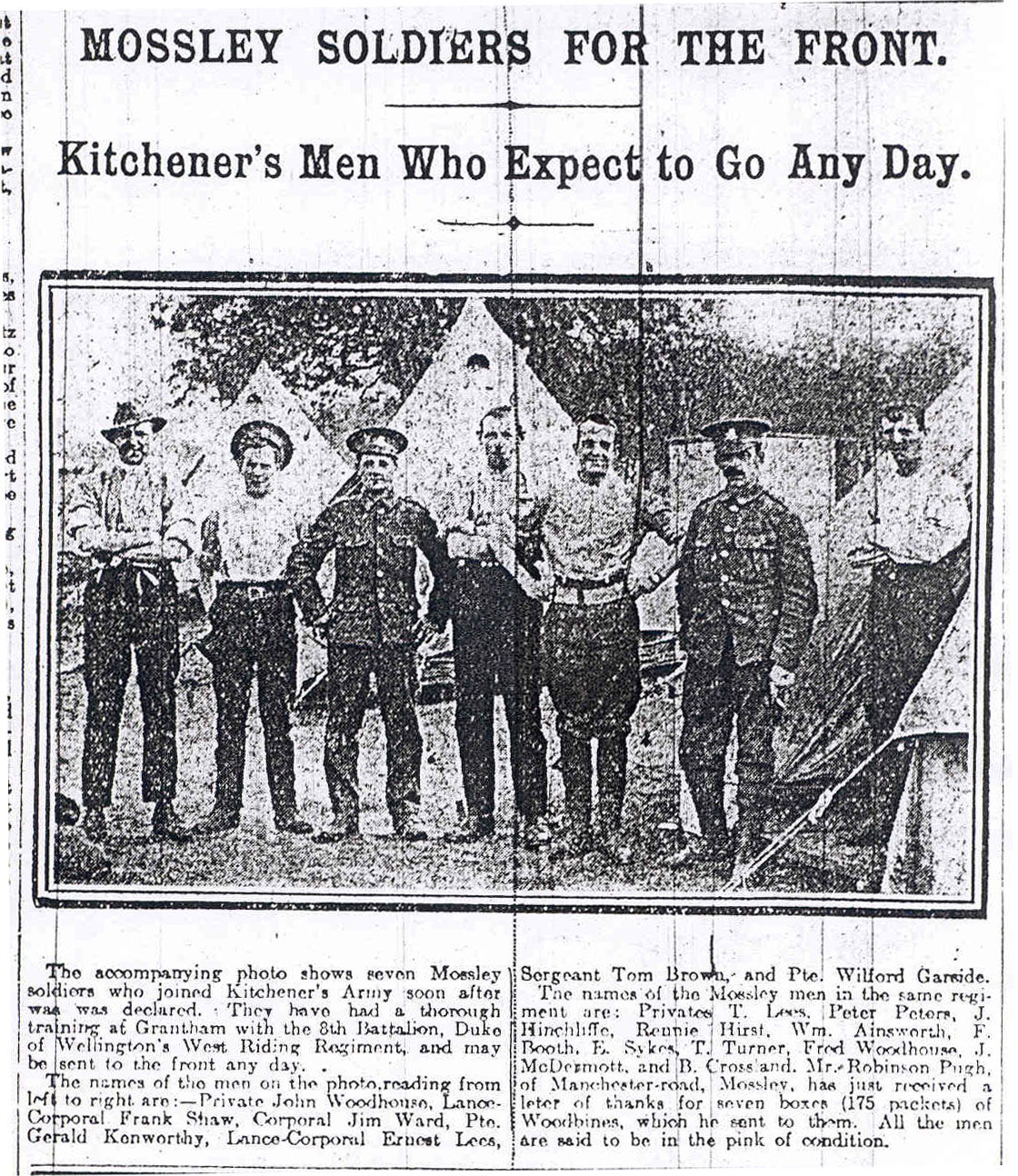 The Photo was taken in May 1915
Second on the left is Private Frank Shaw who was killed in action on 21st August 1915, during the largest one day attack mounted by the Allies at Gallipolli. The British tried to link the 5km distance between Anzac Cove and Suvla Bay by attacking the "Scimitar Hills" and the "W Hills". The British suffered 5,300 casualties and the Turkish 2,600. At the end of the day the Turks still held the two hills.
Contact Rita Vaughan email: mossley@btinternet.com