Mossley Remembers World War Two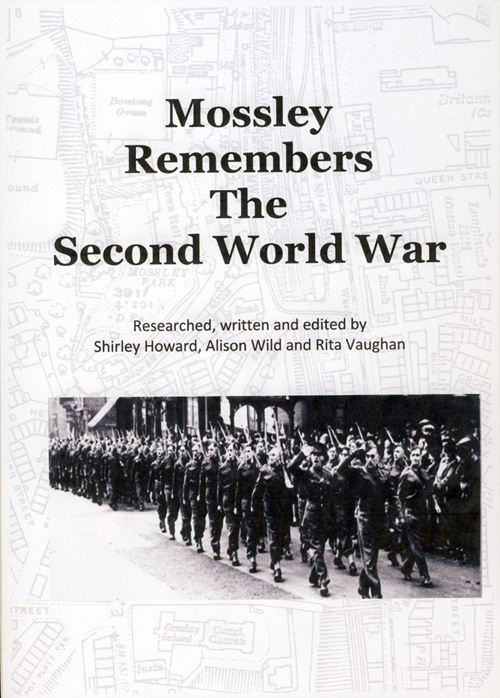 A new book has been produced to commemorate the 70th anniversary of the end of the Second World War, and it has been researched, written, and edited by three Mossley ladies, Shirley Howard, Alison Wild and Rita Vaughan.
The book is called "Mossley Remembers The Second World War" and it will be launched at Mossley Library, George Lawton Hall, Mossley, on Friday September 11, at 11.00 am. At the book launch the three Mossley ladies will talk about their research and how they compiled their book.
Shirley Howard says, "The book takes you through the war years and tells you about what life was like for the people of Mossley. The possibility of Air Raids was a great concern and the ARP service was set up at the beginning of 1938, before the war was declared. As soon as war was declared thousands of gas masks were delivered to Mossley and many trenches were dug in Mossley so that people could take shelter, if there ever was an air raid. We found out that twelve months later the trenches had been filled in and surface shelters were being provided by Mossley Council, but many people still purchased their own Anderson shelter."
The book contains many illustrated personal accounts, and stories told by family members. Alison Wild says, "Many Mossley ladies joined the ATS (Auxiliary Territorial Service): one served abroad, one attained the rank of Sergeant. Many Mossley ladies married men serving with the forces. One lady was granted 48 hours leave so that she could get married, then both she and her new husband had to part to return to their separate camps. When Clothing Coupons severely restricted the purchase of new clothes many Mossley ladies had to "borrow" wedding dresses from neighbours".
The book has many light-hearted stories in it. Alison Wild says, "I have found out that a dog from Mossley called Laddie served with the RAF during the war, both at home and abroad, and at the end of the war the dog had a special medal made for his collar which bore the inscription "Laddie 210 RAF, I also served." There are also photographs and information in the book about the men from Mossley who were awarded medals for their courage, acts of gallantry, and devotion to duty. Rita Vaughan says, "One Mossley man, Thomas Broe, who served with the Lancashire Fusiliers, was awarded a Military Medal in WW1 and an MBE in WW2. This was a great achievement: Thomas had been baptised at All Saints Church on 5 July 1896, and during the Second World War his parents lived on Cecil Street."
Rita Vaughan also says, "Many of the well-known battles of the Second World War have since been made into films for the cinema, such as the sinking of the British HMS Hood by the enemy battleship Bismark. What we have found out is that one of the men who lost his life aboard HMS Hood was from Mossley, and another man from Mossley who was serving aboard HMS Norfolk actually witnessed the sinking of HMS Hood."
"We also have Mossley men who died working on the notorious Burma Railway, one who died flying in The Battle of Britain, and a Mossley lady who died whilst she was a civilian Prisoner of War."
"Mossley Remembers The Second World War" has been compiled using information and pictures from archived newspaper articles, and other wartime sources, about what was happening both at home and on the front line. The book will be on sale both at Mossley Library and the Local Studies Library in Ashton. This book is a sequel to the two books:-
"Remember All The Boys" written by Rita Vaughan (published 2011)
"Mossley Remembers The Great War" written by Shirley Howard and Alison Wild (published 2014)
Later in the year there will also be an exhibition in the foyer at George Lawton Hall, from the first weekend in October until mid-November, with photographs, stories, etc, showing what effect the war had on Mossley people. There will also be provision for Mossley families to record their own WW2 memories in a memory book.