Forum members visit to Renishaw Hall
click on the photos to view full size image.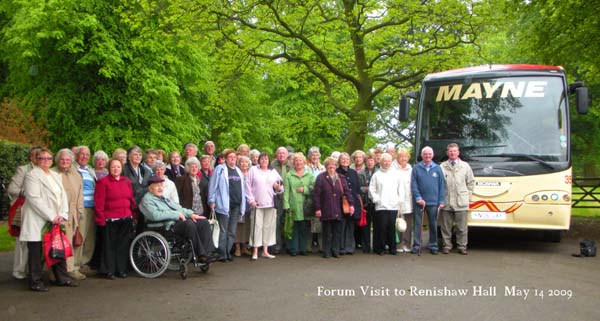 Forum members enjoyed a memorable day out at Renishaw Hall and gardens, our well organised visit took place on Thursday, 14th May 2009. Set in the county of Derbyshire, the Hall has been the ancestral home of the Sitwell family for 400 years, the estate covers some 300 acres. The house itself boasts many treasures, for the visitor to explore, steeped in history, our guide this morning barely scratched the surface, as we enjoyed a tour of much of the ground floor of the property, Furniture, works of art, artifacts and vast collections of pottery and china were in abundance, all with their own story to tell.
After our lunch we were free to explore the many other venues on offer in the grounds, before heading home to Manchester, we were treated to a most excellent array of cucumber sandwiches, homemade scones served with best butter, jam, topped with freshly whipped cream and a most welcome pot of english tea. Thanks must go to Christine Clough, for all her hard work in making sure the day was a total success!. -- Stephen & Julie Fisher