HISTORY ALIVE -TAMESIDE issue 5 2010
Our latest 2010 edition launched on 27 April 2010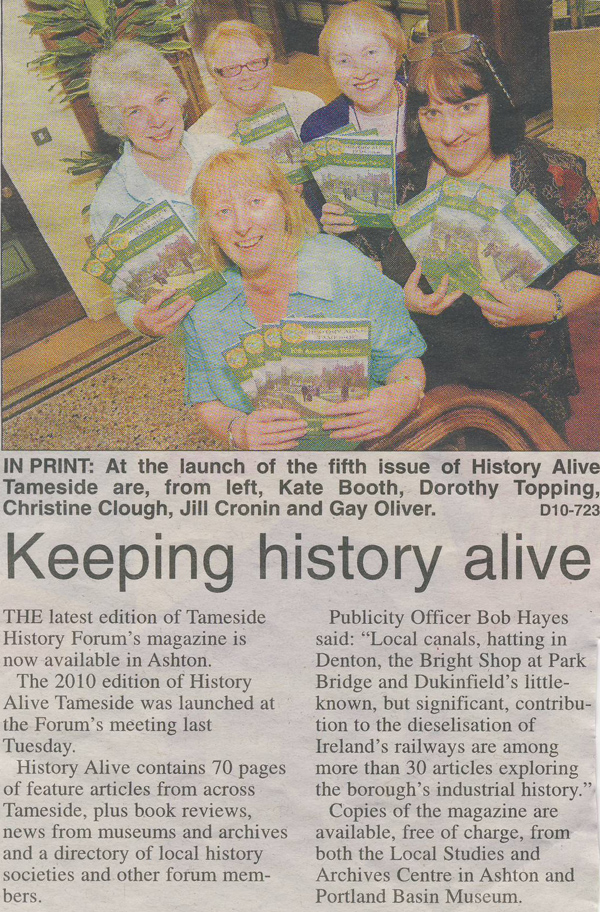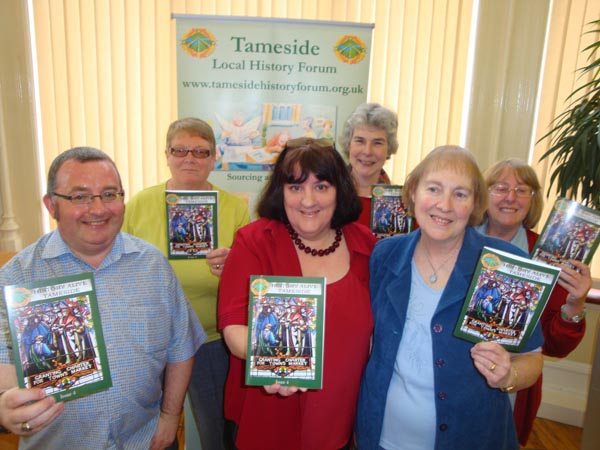 Our Editorial Team
Bob Hayes, Christine Clough, Gay Oliver, Kathryn Booth, Jill Cronin, Dorothy Toppping


History Alive - Tameside is an ambitious, glossy magazine packed with items of historical interest about. Copies available from Tameside Local Studies and Archives Centre or click below to download on-line versions. As a registered charity, we are finding it increasingly difficult in the current crunch to raise funds and are looking for sponsors to be able to continue to produce this magazine every year and to keep it free of charge.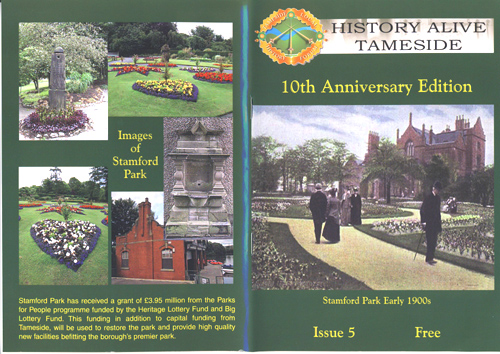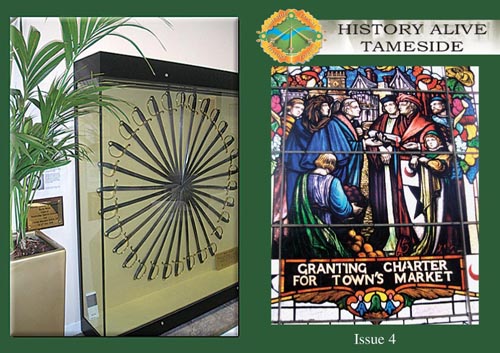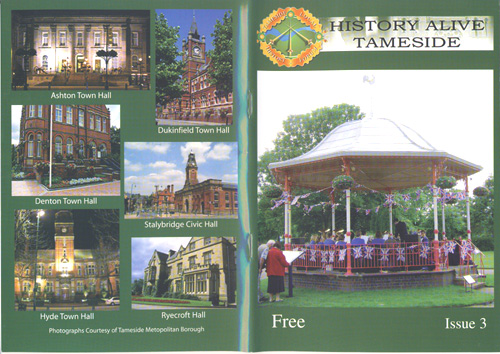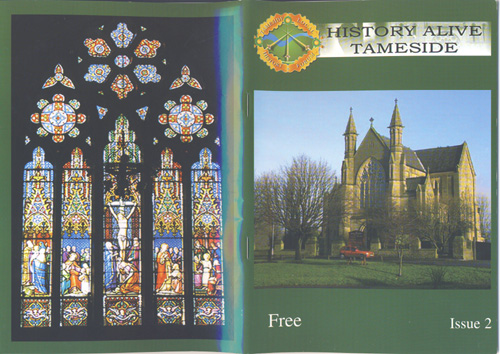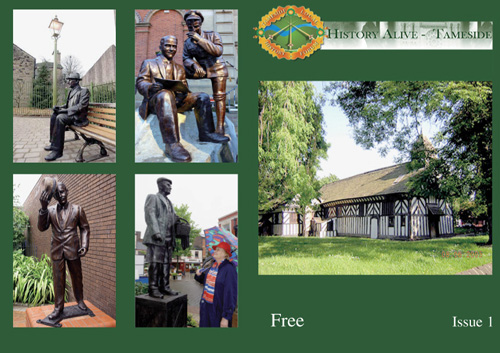 Magazine reviews:
Reviews listing compiled by Gay Oliver
Manchester History Review, Volume 21, 2010
This Annual publication seeks to publicize the history of those parts of south-east Lancashire and north-east Cheshire that were formed into the metropolitan borough of Tameside in 1974. As with previous issues, the articles cover a wide range of subjects, such as the rectoryy at St Mary's Haughton Green, the Gorse Hall Murder Mystery, extracts from the National Archives relating to Ashton Poor Law Union, railways of the area and the history of Stalybridge and district Sunday School Billiard, Snooker and Whist League. This series enables researchers to publish short articles that would not otherwise have been published and which might be of interest to a wider readership. In addition there are reports of work udertaken by various local historians and societies in Tameside and reviews of local books, many published by Tameside Libraries service. The Tameside Local History Forum is to be congratulated on maintaining a high standard and making available much important research on the area.
Added 7 July 2010
Local Studies Librarian Vol.25 No. 2 Winter 2006
Tameside Local History Forum has recently issued History Alive – Tameside Issue 1, the first of what is hoped will become an annual publication. It is an attractive 64 page magazine with many short articles and snippets of information contributed mainly by members of local history societies in the area. It also includes a list of members of the Forum, some thirty in all. One of the articles is by Maureen Burns of Tameside Local Studies and Archives Centre using the sources of the Centre in historical research, using the area round the library as an example. Because it has been funded by the Community Foundation for Greater Manchester this publication is issued free.
Local History Magazine 108 May/June 2006
History Alive – Tameside, Issue 1. The Tameside Local History Forum 64pp. Details from www.tamesidehistoryforum.org.uk Free.
This is issue 1 of a Greater Manchester publication from the Tameside Forum. It is a bright extensively illustrated A5 size magazine with colour covers, packed with details of the societies and events and complete with a directory of the members making up the Forum. Being funded by the Community Foundation, the copies are available free of charge. History Alive is a must for those interested in the local history of Tameside and Greater Manchester.
Open University History Society North West Region Newsletter No. 72 Summer 2006
History Alive – Tameside. Tameside Local History Forum , No 1 2006. 1 issue a year, FREE. Available from Tameside Local History Forum, Mrs Christine Clough, Secretary, 218 Newmarket Road, Ashton-under-Lyne OL7 9JW.
Items include: Editorial; A Diary of Events in 2005; Rev. Henry Parnaby MA and the Munitions Factory; Hugh Mason, MP; 'Lyndhurst' 70 Broadoak Road, Ashton-under-Lyne; American Connections, Alphabet Soup; The Tameside BMD Project; Old Chapel Dukinfield CD; Friends of Ashton Parish Church; Gee Cross and District WI; A Survey of the Historical Development of the Designed Landscape at Gorse Hall; Rebirth of a Canal; Stained Glass at Old Chapel (Unitarian) Dukinfield; On Being a Wartime Teenager; Tameside Local History Forum Directory of Members 2006; Never Mind the Research, What about the Source Materials?; Mining in Mottram!; A Peek at Cotton Street in the Mid-nineteenth Century; Yorkshire Ducks; Recent Archaeological Survey Work at Ashton Market Hall; Book reviews; Robert Reschid Stanley 1828-1911; The Bad Old Good Old Days?; Facts from 1916; The Newtons of Newton; 'To Keep Better Order'; Looking at Some Local Surnames; Voices From The Past; William Kenyon and sons Ltd, Dukinfield 140 Year Anniversary; North West Labour History Journal.
North West Labour History Journal
History Alive Tameside – no. I Tameside Local History Forum, 2006, paperback 64pp, Free. (Available from Tameside libraries and museums, for further information visit: www.tamesidehistoryforum.org.uk)
This new professionally produced publication tempts one to open the pages. It has an attractive cover showing a view of the black and white timbered Church of St Lawrence in Denton. The back cover is equally inviting with photographs of the new bronze statues placed around Tameside. Publication of History Alive Tameside is a co-operative venture by some thirty groups which form the Tameside Local History Forum (TLHF). The main aim of the THLF is to increase public awareness of al aspects of local history in Tameside. Surprisingly, the booklet is free, which – in the editor's opinion – makes it unique amongst history magazines. It is circulated within Tameside to libraries, museums, secondary schools and colleges and also to reference and academic libraries in Greater Manchester.
There is a wide variety of articles. Of particular interest is that by Mary Whitehead (Albion United Reformed Church Heritage Group) about the Reverend Henry Parnaby. He was born at Stockton on Tees in 1873 and on leaving school became an apprentice engineer. Work experience led him to develop a strong sense of justice that in turn led him to become an active trade unionist and an active Christian. He won a scholarship to study theology and in 1912 became minister at the Albion Congregational Chapel, Ashton-under-Lyne. With the outbreak of the First World War, he volunteered to return to engineering and took up a post at Messrs Adamsons, where he once again joined the union. He continued to preach and shared his engineering wages between church charity work and the town's needy.
The study of family history is popular; most people are interested in their roots and in the place names of the area in which they live. Harry Lever's article – 'The Newtons of Newton' – about the once-influential Newton families, gives information helpful to local historians. Another helpful tool in the search for information is the examination of birth, marriage and death (BMD) registrations, and there is a report of progress on the Tameside BMD project. Innovative articles by Maureen Burns (Tameside Local Studies and Archives) – 'A Peek at Cotton Street' –and Keith Holford (Derbyshire Family History Society) – 'Alphabet Soup' –show how information gleaned from archives and registration documents can help create pictures from the past.
The overall impression from reading this magazine is of great activity within the study of local history in Tameside. It is a well-balanced publication of sixty-plus pages that give space for all aspects of local history and the tools of the trade historians require. Names and addresses of all groups affiliated to Tameside Local History Forum can be found in the directory of members.
Pat Bowker
News
While Stocks Last!! - copies are available by post. Check the Instructions on page 19 of our latest edition.
Scroll down the page to read some reviews.